Lakeside Cart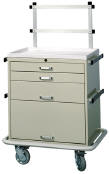 Harloff Cart




Quality Lakeside and Harloff Anesthesia Carts





Dozens of models are available.


Select from different styles in various sizes
and colors with accessories to suit your needs.

1) You choose: Buy from the manufacturer directly and
pay list price or buy from SW Med-Source at a discount!

2) Please go to the manufacturer's detailed website link listed
below and make your cart and cart accessory selections:

Anesthesia Cart Company Links:

www.elakeside.com

www.harloff.com
3) Then just call at 1 888 424-1740 or e-mail us at: info@swmedsource.com.
Tell us what quantity, cart model and accessories you want.
Don't forget to include your name, facility, contact
number and ship to address with zip code.

4) We will then reply to you with your discounted price!

5) Why pay more for your Anesthesia Cart? Buy quality Lakeside
and Harloff Carts from SW Med-Source and Save Money!