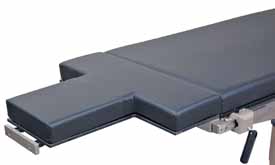 click to enlarge

Telescoping mounting column fits all tables.

Narrow Head Rest for All Surgery Tables
Improves surgeon's access at the head end of the surgical table during ENT, neurosurgery, plastic surgery or ophthalmic surgery.

Fits all O.R. tables.
Standard 20" width reduces to 8" width at the head end.

Radiolucent head rest includes 2" premium pressure management pad.
Mounts in place of standard head rest.


#SW-80-0228 Blade clamps are sold separately. These clamps can be mounted vertically or horizontally.
These clamps are compatible with flat 1" wide x 3/8" or 1/4" deep accessories.
Updated 1/18

SW-80-0052
Narrow Head Rest
with pad, clamps
are sold separately:

Your cost: $625


SW-80-0228
Simple Clamps:
(Two are required)

Your cost: $88 ea.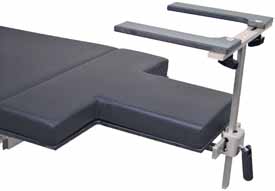 click to enlarge

Wrist Rest for Above Head Rest
Compatible with above narrow head rest.


Wrist rest adjusts 14" vertically.


Inside diameter width adjusts 5" to 11".


Clamp is included.



SW-80-0086
Wrist Rest for above
Head Rest with clamp:

Your cost: $325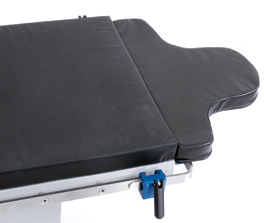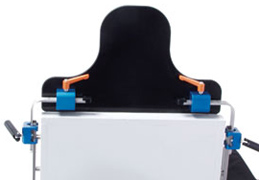 Universal Narrow Head Rest
Easy-to-adjust mounting rails expand or contract to meet the width of table model.


Simply slide the bars to the desired width and lock handles.


Extender secures with two Universal Rail Clamps (sold separately below).


Unique design eliminates chance that any hardware will interfere with the radiolucent field in the center of the piece.


20" width shoulder area tapers to 8" at the head.


T-Foam™ pad is included.


Made of lightweight yet strong phenolic material and backed by a five year warranty.



SW-10-93-1922
Universal Narrow
Headrest with pad:

(Note: Clamps are
sold separately)

Your cost: $795

SW-10-93-1899
Universal Rail Clamp:

Your cost: $165 ea.
(Two are required)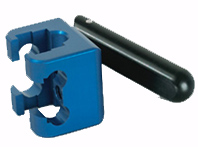 Please note: All prices quoted are FOB Factory. Freight is pre-paid and added to invoice. No returns are allowed on pads
due to contamination and infection control issues. Prices are subject to change without notice. Terms & conditions

Average delivery time is 1 to 3 weeks depending upon availability.

Copyright, 2005 - 2018, SW Med-Source Inc., All Rights Reserved.
Updated 1/18