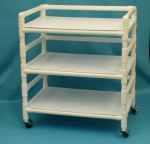 The bottom shelf is used for storing instruments. The middle shelf is for supplies, irrigation bags, etc. The top shelf is for "bagged" dirty instruments.

PVC Case Carts for O.R. are in!
Use these for your distribution system.
O.R. case set up is simpler utilizing these PVC carts for your supplies, instrument trays, etc. These carts are: Durable, non-porous and easy to clean.


Attractive, lightweight and less expensive than steel. Well designed! This unit has three shelves with retaining rails to prevent items from sliding off. Distance between shelves is 12".


Sturdy! Each shelf has four 1 5/8" tubular braces underneath to accommodate heavy instruments and irrigation bags. Rated at 75 lbs. per shelf. Also includes 4 ea. 3" polyurethane casters, 2 with locks.


Cart dimensions: 36"l x 24"w x 41"h. Options include a see-thru dust covers, tote bins, slide-in sheet holders for pick cards and a 400 denier nylon cart cover, available in different colors. Shipped by truck.

Model# 332-24-3-SP

List: $651

Your cost: $435 ______________



Model# 398


Tote Bin with handles
on front & back, white,
15"w x 20"d x 5"h.

Your cost: $25

All prices quoted are FOB Factory. Freight is pre-paid and added to invoice. Prices are subject to change without notice.
Terms & conditions